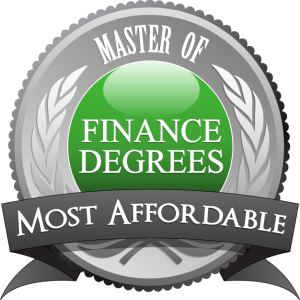 By MFD Staff
There are many options for those interested in pursuing an affordable master's degree in finance. Finance is a thriving career track that attracts ambitious graduates to the nation's largest companies, from Wall Street to Silicon Valley. Students who want to break into the industry at a higher than entry-level position often choose to pursue a graduate degree in finance, financial engineering, or business administration. If you're interested in enrolling in such a program, the following list will undoubtedly help you make a decision. We've compiled a selection of the 30 best, most affordable Master of Finance degree programs in the country.
Convenient Online Options
See Also: Top 10 Best Online Master of Finance Degree Programs
Methodology
To come up with our list, we collected data for each of these schools in six areas: student-to-faculty ratio, average undergraduate GPA, percentage of students employed by graduation, finance- or business-related student organizations, and Princeton Review's academic experience and career ratings. You can read more about how Princeton Review rates schools here, but in general, such ratings reflect how students feel about their school's ability to educate them well and prepare them for professional life.
The 30 schools with the highest overall scores are listed below. They are listed from most to least expensive, but you can also see their quality rankings to get a sense for how each school measures up across the six indicators we assessed.
30. Massachusetts Institute of Technology
Cambridge, Massachusetts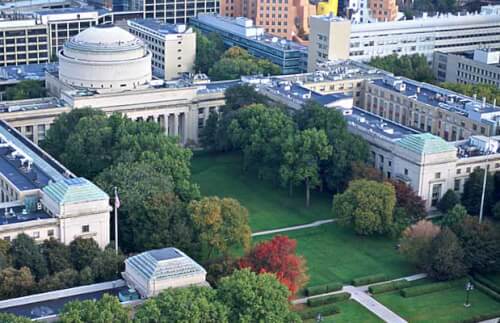 Image Source
The Financial Times rates MIT's Master of Finance (MFin) as the top master's program for finance professionals in the U.S. A Sloan MFin degree assures deep immersion in and solid understanding of financial concepts via several interdepartment elective options, participation in unique events such as finance bootcamps with industry leaders during Capital Markets Day in NY, and experiential industry treks locally and abroad. 92% of "Sloanies" are employed at graduation by renowned industry leaders – from Fortune 500s to boutique firms. Student life at MIT is enriched by a highly supportive atmosphere for partners and families of students and a robust campus organizations roster full of events and activities.
Tuition and Fees:
$43,210
Ranking:
2nd
29. Vanderbilt University
Nashville, Tennessee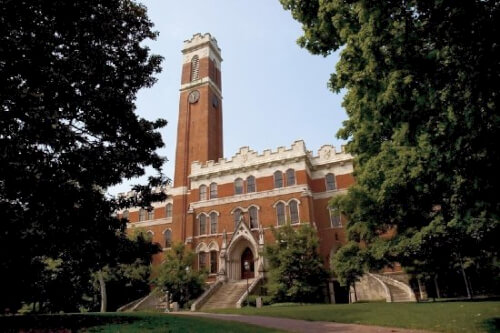 Image Source
Radiating Nashville's southern charm on its historic campus, Vanderbilt's MS Finance program boasts a curriculum designed to fit every individual's specific needs. Small (9:1) classes with MBA students maximize challenge and interaction, while a strong core of required finance courses combined with advanced MBA electives ensures a rigorous academic experience. An astounding 88% of students graduate with a job, thanks to one-on-one career guidance, on-campus employer interviews, and numerous networking opportunities with potential employers. What's more, fun doesn't have to take a back seat with more than 20 financial/business social organizations planning myriad events for all to enjoy.
Tuition and Fees:
$41,928
Ranking:
6th
28. Princeton University
Princeton, New Jersey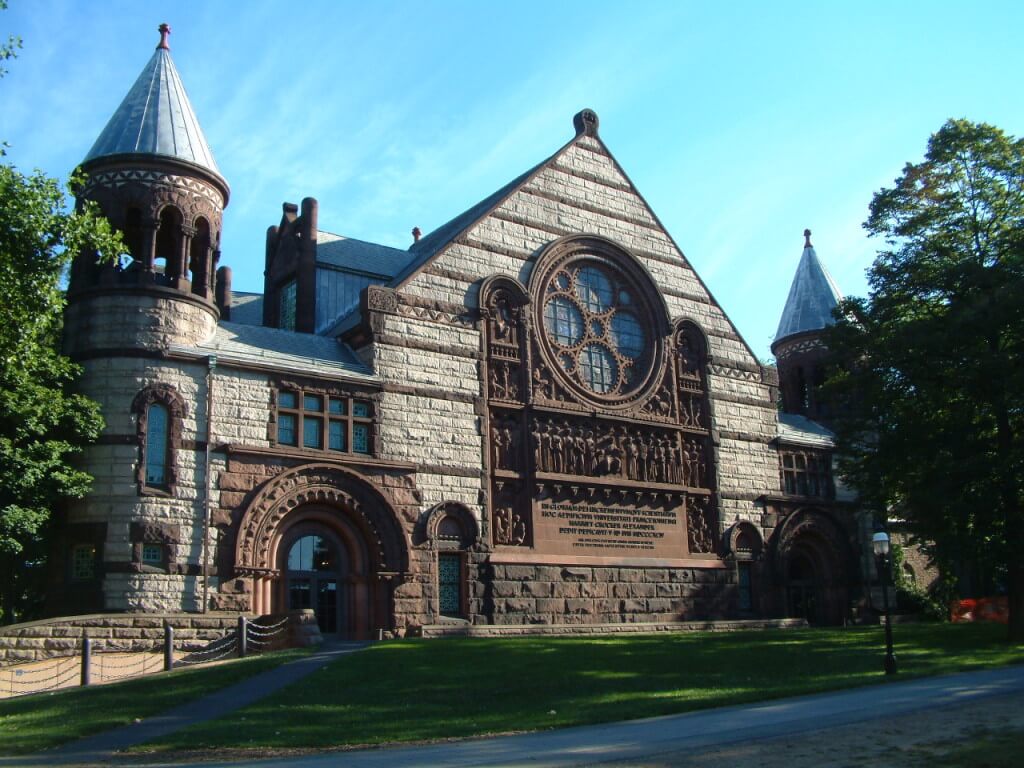 Image Source
Princeton's Master in Finance (M. Fin.) degree carries not only the prestige of the school but a solid academic grounding in the essentials of finance – applied research, risk management, securities, portfolios and financial forecasting and trading. A whopping 99% of graduates secure employment straight out of school, thanks to the personal attention that a student-faculty ratio of 5:1 provides, in addition to extensive assistance with internships and job placements. Campus life at Princeton is never boring, with more than 50 relevant student organizations to choose from and campus events galore.
Tuition and Fees:
$40,170
Ranking:
15th
27. Columbia University
New York, New York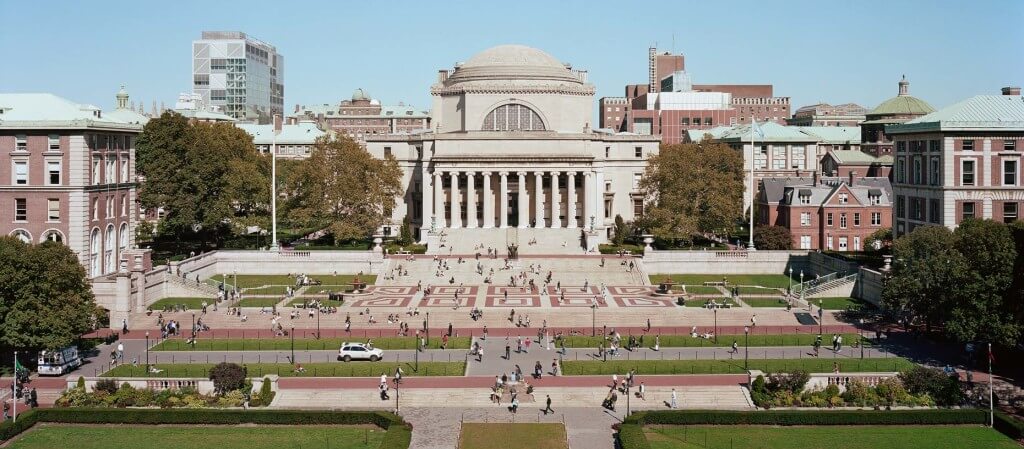 Image Source
The Columbia Business School roots its MBA-Finance and Economics program in collaboration with industry leaders and business trailblazers. With 9 Nobel Laureates on its faculty roll, an average undergrad GPA of 3.5, and an incredibly small 6:1 student-teacher ratio, CBS promises a challenging yet passionate classroom experience. There are over 200 project-based electives across 14 study areas to choose from, ensuring a customized education fit for every finance career goal. It's no wonder that 85% students secure employment at graduation! When class time is over, take in a show or hit the museum in the city that never sleeps: NYC.
Tuition and Fees:
$39,852
Ranking:
7th
26. Robert Morris University
Pittsburgh, Pennsylvania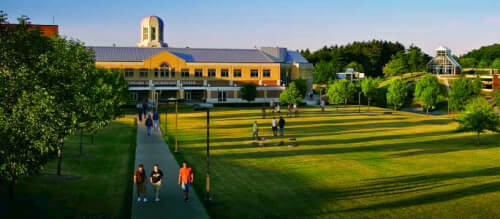 Image Source
An AACSB accreditation places RMU's School of Business among a selective 5% of the world's business schools with this prestigious distinction. Small classes (12:1) taught by accomplished faculty; a flexible curriculum with the opportunity to choose electives towards specialization, an option of in-class, online or hybrid study; and state-of-the-art campus facilities are all geared toward offering students the tools they need to succeed in an increasingly global financial market. A 90% placement rate with top-notch companies such as BNY Mellon, Ernst & Young and more is a measure of the school's success. Plus. access to Division 1 athletic teams and proximity to bustling Pittsburg makes RMU a lucrative option.
Tuition and Fees:
$32,370
Ranking:
29th
25. Rice University
Houston, Texas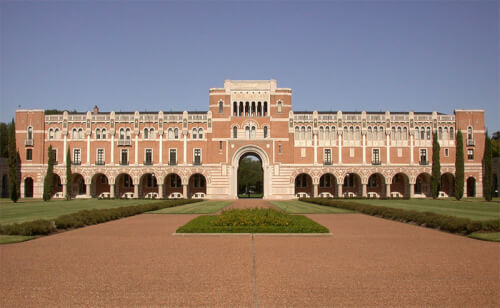 Image Source
Named the #1 university business incubator in the world, Rice University's Finance M.B.A. is a popular choice for graduate studies. RU's strategic location in Houston, right amidst the energy sector, lays the foundation for a strong business program enriched by several project-based learning and networking opportunities such as the Rice Business Plan Competition, the world's largest and richest student start-up competition. Small classes, a rigorous curriculum, and the annual Career and Internship Expo contribute to an impressive 85% employment rate at graduation. Network with employers while enjoying a chili cook-off? There's a way to mix business with pleasure at Rice University!
Tuition and Fees:
$31,687
Ranking:
10th
24. University of Pennsylvania
Philadelphia, Pennsylvania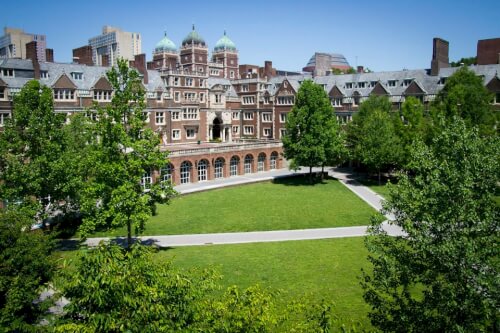 Image Source
The University of Pennsylvania's Wharton School of Business offers a Finance major as part of its renowned MBA program, with specializations available in the Banking, Corporate Finance, Portfolio Management and International Finance sectors. A student-faculty ratio of 6:1 guarantees personalized education, while more than 200 electives and 15 interdisciplinary programs offer incomparable flexibility and exposure toward your specific career goals. An impressive 86% of recent graduates find employment in the financial departments of investment banks, management consulting firms and as other commercial and non-profit institutions. For all its academic emphasis, UPenn offers a rich student life with more than 15 finance and business-focused campus organizations to choose from, as well as the cultural city of Philadelphia within arm's reach.
Tuition and Fees:
$28,768
Ranking:
3rd
23. University of Michigan
Ann Arbor, Michigan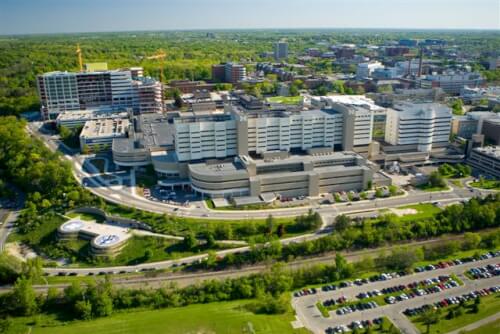 Image Source
An MBA from Ann Arbor's Ross School of Business includes the option of an accelerated finance specialization to jumpstart finance-focused careers. The course offers plenty of real-world experience in the form of a mock electronic trading floor, participation in the management of an actual Ross student fund, and a 7-week immersion within a corporate or entrepreneurial entity. Fast Track Finance students also receive specialized career advice from top industry leaders resulting in an impressive 85% graduation employment rate. More than 50 social clubs embrace diversity and encourage leadership in a variety of arenas ranging from sports to community service.
In-State Tuition and Fees:
$19,598
Ranking:
5th
22. University of Minnesota
Minneapolis, Minnesota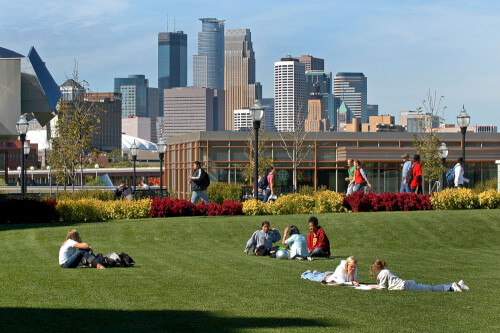 Image Source
UMN offers a 2-year MBA program with a Finance specialization for students who aspire to careers in banking, wealth management, or corporate finance, among others. The business school provides its students practical experience not as project-based consultancies, but as a professional services firm serving multiple high profile clients. A 2-week Global Discovery tour enriches students' education by engaging them in a comparative analysis of business settings around the world. 19 Fortune 500 companies are located in the vicinity, contributing to a 75% employment rate at graduation. Cool fact for sleuths: UMN houses the world's largest collection of Sherlock Holmes literature and memorabilia!
In-State Tuition and Fees:
$15,008
Ranking:
18th
21. University of Illinois – Urbana-Champaign
Champaign, Illinois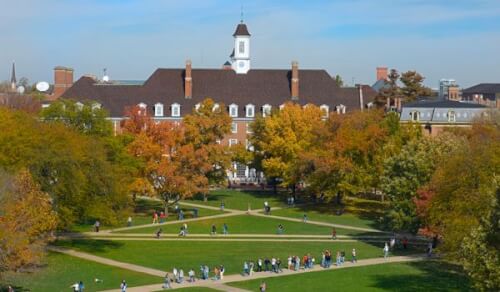 Image Source
The University of Illinois at Urbana-Champaign awards its Master of Finance degree in an environmentally sustainable, technologically advanced, platinum-rated business facility sponsored by the Chicago Mercantile Exchange. A challenging curriculum spread over one academic year offers strong core courses complemented by electives in popular disciplines such as corporate finance, asset management, banking, and more. The MSF program has been named a CFA Program Partner, adding extreme value towards a future CFA certification. 89% of graduates are employed by industry giants such as Bank of America, Deloitte, Morgan Stanley, and other financial heavyweights. A plethora of arts and culture initiatives, recreational facilities and student organizations make sure that downtime is never too hard to achieve.
In-State Tuition and Fees:
$14,300
Ranking:
12th
20. University of Virginia
Charlottesville, Virginia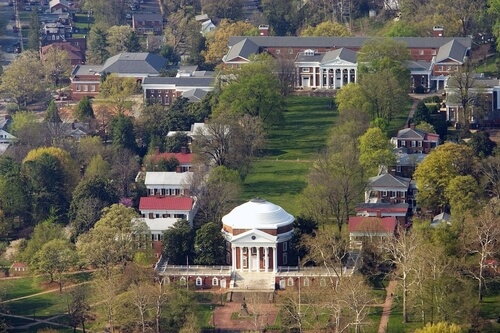 Image Source
UVA's Darden School of Business offers a leading general management MBA program with a career track concentration in corporate finance and investment banking in the program's second year. The curriculum focuses on a strong first-year core followed by a specialized, experiential year strengthened with global business experiences and projects for real companies. Bloomberg Businessweek rated Darden's career services at an A+ and it shows: 85% graduates are employed at graduation and the average starting salary for the class of 2013 was $111,000! Life in a close-knit college community, situated in charming Charlottesville, Va., offers the perfect blend of excitement and engagement.
In-State Tuition and Fees:
$13,818
Ranking:
4th
19. University of Cincinnati
Cincinnati, Ohio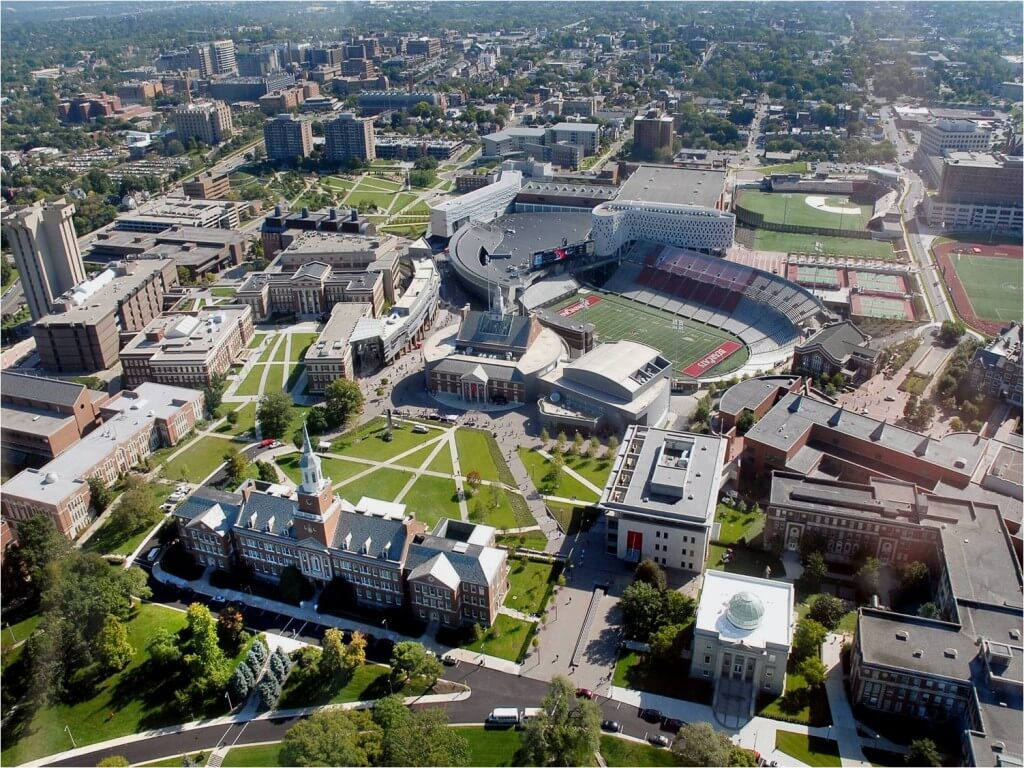 Image Source
Deemed "One of the most noteworthy up-and-coming schools" by U.S. News and World Report, UC's Lindner College of Business offers a MS Finance degree driven by excellence in a rigorous academic program. The curriculum combines a strong core of required courses with a variety of specialized MBA and MS electives to provide a strong basis for a successful career in finance. A small student-teacher ratio of 4:1 offers instruction intensive enough for the program to be completed in as little as two semesters. Campus life is highly rated at UC – a nationally #1 voted recreation center and champion athletic teams strengthen UC's reputation as a strong all-round school.
In-State Tuition and Fees:
$12,522
Ranking:
7th
18. University of California – Berkeley
Berkeley, California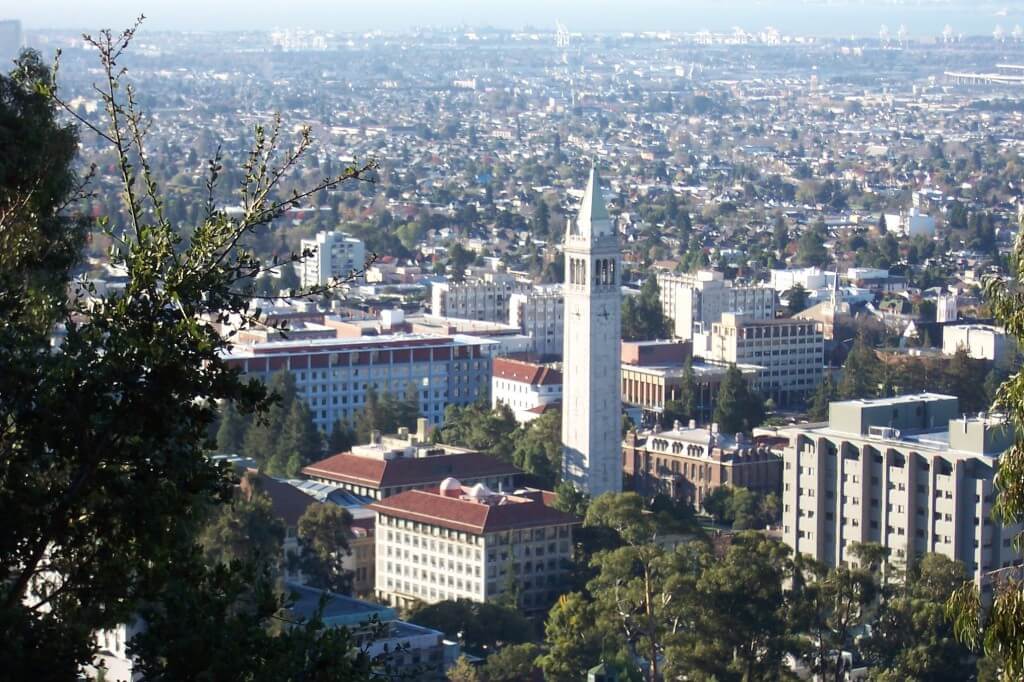 Image Source
Consistently ranked as one of the top universities in the world, UC-Berkeley offers an equally impressive one-year Masters of Financial Engineering (MFE) program for driven individuals with focused career interests. A challenging curriculum, taught by industry luminaries, integrates quantitative methods and real-life application projects with a theoretical framework, producing graduates who are snapped up by employers both as interns (100%) and as employees (85%). Finance students from all over the country flock to Berkeley to receive specialized training in hedge funds, risk management, derivatives, and commodities investments Alumni weigh in on the quality of education at UC-Berkeley: 95% would choose graduate study at Berkeley all over again!
Tuition and Fees:
$63,540
Ranking:
8th
Note: Corrected cost information places this program at #30 in this ranking.
17. University of California – Los Angeles
Los Angeles, California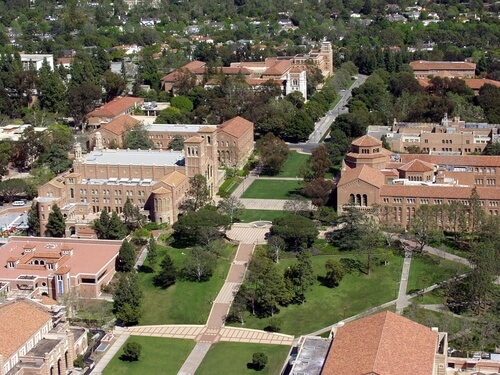 Image Source
The UCLA Anderson School of Management's Master in Financial Engineering (MFE) degree equips students with the technical and intuitive skills needed to achieve the best results in rapidly evolving global financial markets. The program uniquely combines all the aspects of mathematics, statistics, and computer programming that will help you excel in the business world. And employment statistics are strong: 94% graduates are employed within 3 months of graduation and, with employers like Google and Citigroup, the average starting salary is $94,000. Studying in SoCal offers almost unlimited recreational benefits – catch world-class theatrical performances, visit renowned museums, or just chill in the on-campus Olympic-sized swimming pool.
In-State Tuition and Fees:
$11,220
Ranking:
13th
16. University of California – Irvine
Irvine, California
Image Source
UC Irvine's Merage School MBA offers a general first year core curriculum followed by a roster of highly professional electives in its second year of specialization. The visionary curriculum emphasizes innovation and strategic planning knowledge through experiential learning in the form of field projects and business plan competitions with substantial cash prize incentives. Make lasting connections beyond academic life by joining professional or recreational student organizations and networking through on-campus career events. A stellar 92% of graduates find employment at graduation; at UC Irvine, you can be one of them too!
In-State Tuition and Fees:
$11,220
Ranking:
24th
15. University of Texas – Austin
Austin, Texas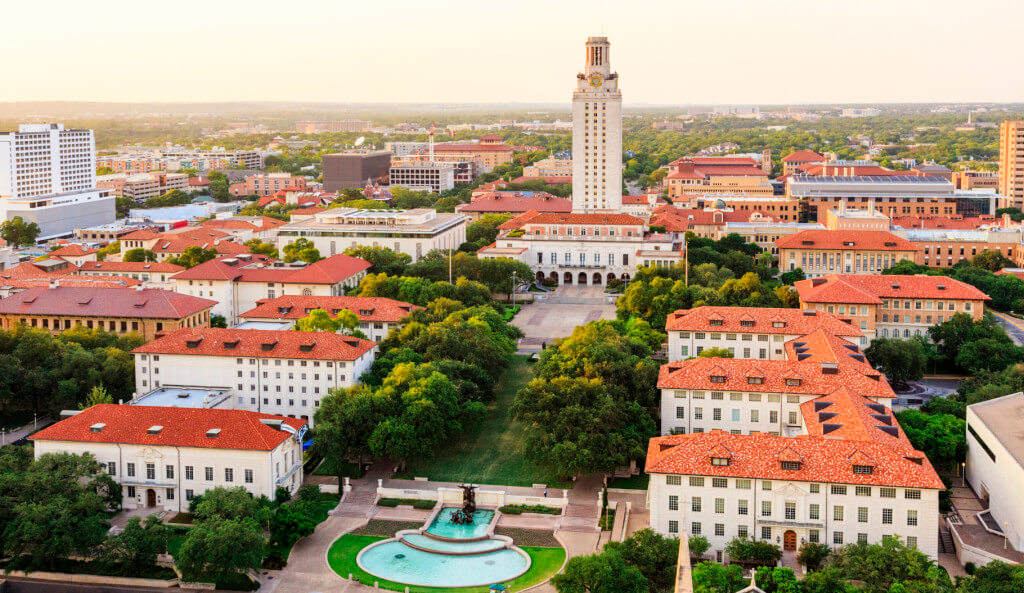 Image Source
With a rigorous curriculum designed by an advisory council of industry leaders, UT-Austin's McCombs School of Business offers a 10-month MS Finance program selectively open to students from all academic backgrounds with no previous work experience. Students may choose a specialized curriculum path in energy, corporate finance, or asset management after completing a core semester. 92% of Texas MSF students graduate with job offers from industry powerhouses like KPMG, PWC, Capital One and Goldman Sachs. Experiential learning extends beyond the classroom with the university's strategic location in the fastest growing city in the country.
In-State Tuition and Fees:
$10,842
Ranking:
1st
14. University of Florida
Gainesville, Florida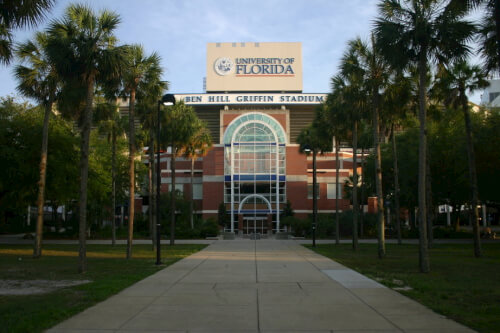 Image Source
The oldest public university in the state, UF boasts a multi-pronged graduate Finance program, awarding an MS-Finance degree in addition to an MBA-Finance concentration or an MSF/Juris Doctorate joint degree, depending on an incumbent's prior finance education, experience, and individual career aspirations. A low student-teacher ratio of 10:1, along with a strong support network for graduates' spouses and children (including 3 campus daycares) ensures a highly satisfying academic experience, culminating in a solid graduate employment rate of over 75%. Grad students also have plenty of networking opportunities through career fairs, mentoring programs, and salaried internships.
In-State Tuition and Fees:
$10,770
Ranking:
14th
13. University of Wisconsin – Madison
Madison, Wisconsin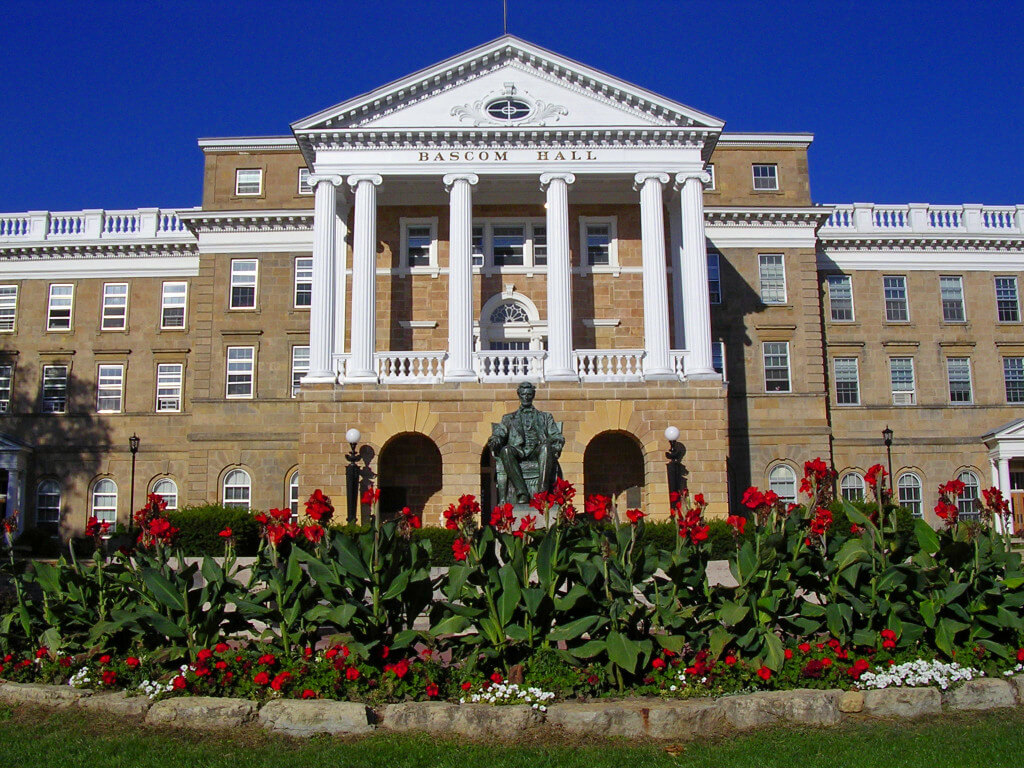 Image Source
A Wisconsin MBA in Corporate Finance and Investment Banking is a two year advanced degree combining a demanding first year core curriculum with a second year of applied, project-based assignments for consulting firms, banks, public corporations and private companies. Students have the opportunity to participate in international "field trips," embark on financial consulting engagements, and network with top industry recruiters even before officially graduating. There are plenty of occasions for unwinding: a Thursday night tradition of hitting the city clubs is a crowd favorite! For something more family friendly, join the Joint Venture Club, a support network for those with spouses and kids.
In-State Tuition and Fees:
$10,728
Ranking:
9th
12. University of Arizona
Tucson, Arizona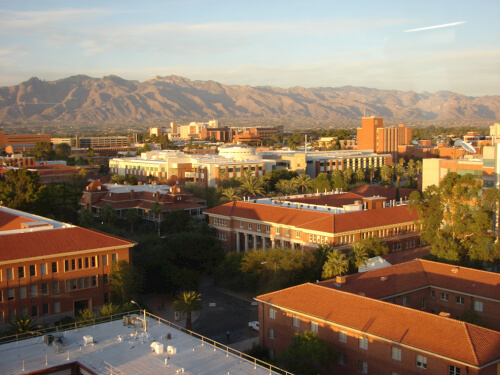 Image Source
UA's Eller College of Management offers students a 12- or 16-month (non-thesis option) MS-Finance degree at its Tucson campus. This program has been accepted into the CFA Institute university recognition program, making it a lucrative option for those aiming at a future CFA career; CFA exam scholarships are awarded by merit. An experienced faculty, small class sizes, and on-campus career services contribute to UA's graduate employment rate of 73%, with alumni placed with Mattel, Honeywell, Walgreens, and other big names in the industry. The university also has a strong environmental and cultural presence in the community and offers a variety of relaxation options, as well as over 50 athletic and recreational clubs.
In-State Tuition and Fees:
$10,508
Ranking:
11th
11. University of Maryland – College Park
College Park, Maryland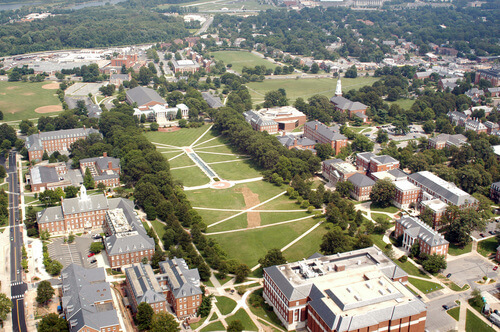 Image Source
With its campus located within walking distance of the nation's capital landmarks, UM's Robert Smith School of Business takes pride in equipping grad students with the tools to succeed in the competitive world of modern finance through its MS-Finance program. Demanding core courses provide a solid finance foundation, while a large number of interdisciplinary electives provide the flexibility of specialization. Students gain practical experience by managing real investment funds and participating in experiential learning projects. 66% graduates are employed at graduation, thanks to committed career services and a dedicated faculty. Unwind with catching a show at the Performing Arts center or shopping at the on-campus farmer's market.
In-State Tuition and Fees:
$10,314
Ranking:
23rd
10. University at Buffalo
Buffalo, New York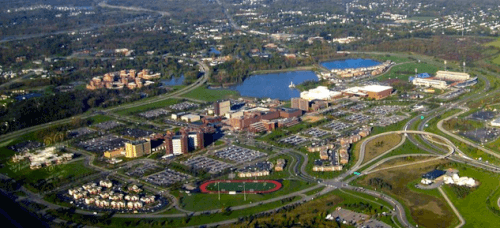 Image Source
The MS-Finance at UB's School of Management is targeted toward grad students keen on focusing their career on finance rather than a broad MBA. You can obtain further specialization by choosing a finance management track or a quantitative finance track, with each option offering an intensive curriculum on its focus areas. Admission to MSF is only available in the fall and goes through 3 semesters, including a 4-week stint at the Summer Finance Institute where students work in small groups with leading finance executives from major corporations. For downtime, participate in one of 20 NCAA Div. 1 athletic teams or enjoy outdoor performances at UB on the Green.
In-State Tuition and Fees:
$9,870
Ranking:
22nd
9. University of Alabama
Tuscaloosa, Alabama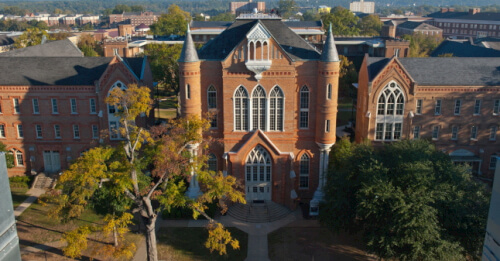 Image Source
The Princeton Review ranks UA's Manderson School of Business' facilities as third best in the country. The school's motto of "Innovation. Relevance. Rigor." carries over to its one year MS in Finance, which equips its students to make sense of financial markets in a rapidly changing global economy. With specializations in financial policy, financial risk strategy and real estate, this MS program seeks to empower students with advanced expertise in investments, banking, corporate finance and financial engineering. The business school offers many amenities such as high speed Wi-Fi, a technology lab with 24/7 access to databases, digital multimedia classrooms, and more, along with several service and recreational graduate student organizations.
In-State Tuition and Fees:
$9,450
Ranking:
21st
8. Auburn University
Auburn, Alabama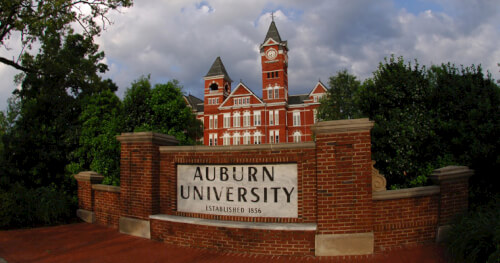 Image Source
The Master in Finance at AU's Harbert College of Business offers a variety of courses in the principal areas of finance: corporate, investments, financial institutions and markets with the purpose of producing qualified professionals for a range of employment opportunities in the financial sector. With a low student-teacher ratio, a high undergrad GPA and a strong mentorship program that pairs each student with an accomplished mentor from the industry, the AU boasts a graduate employment rate of over 70%, fourth among the top 10 business schools in the country. Generous RAs and competitive tuition pricing make Auburn a top choice for graduate school.
In-State Tuition and Fees: $8,262
Ranking: 19th
7. Indiana University – Bloomington
Bloomington, Indiana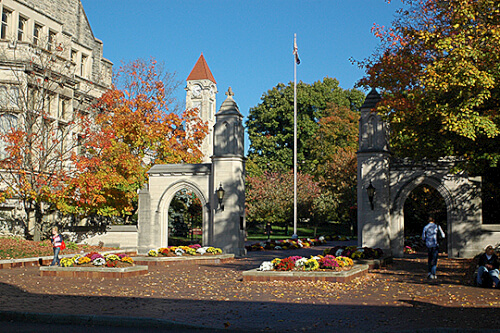 Image Source
IU's Kelley School of Business offers a full-time MBA with a major in Finance specializing in consulting, capital markets or strategic finance. Being a CFA Program Partner, Kelley Finance students have the opportunity to work towards a CFA while earning their MBA. Ranked #1 in teaching quality, career services and student satisfaction by Bloomberg Businessweek, a Kelley MBA boasts a 95% graduate employment rate, with help from dedicated industry professionals acting as career coaches and a unique Me, Inc. workshop to outline your specific strengths, experiences and goals. Beyond academics, IU offers a strong family support network for graduates' families and plenty of adventure opportunities at "The Crossroads of America".
In-State Tuition and Fees:
$7,957
Ranking:
16th
6. West Virginia University
Morgantown, West Virginia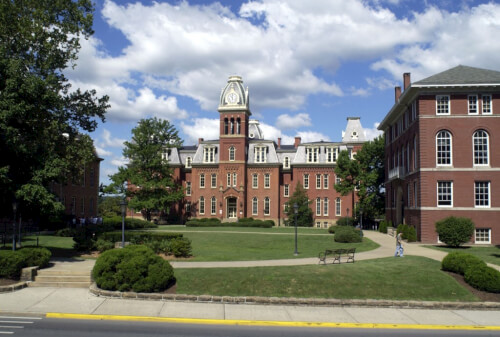 Image Source
AACSB accredited, widely acclaimed and affordable, WVU's College of Business offers a one-year MS-Finance degree that prepares professionally qualified students for a rewarding finance career or CFA certification. A solid core curriculum supplemented by plenty of real-world experience results in a high academic satisfaction rating of 90%. As a WVU student of finance, you'll enjoy courses that aptly combine the study of micro and macroeconomics, corporate responsibility, ethics, and internship experiences. Academic pursuits at WVU are amply complemented by an active outdoor recreational lifestyle and community involvement, engendering the team building and leadership skills required in an intensely competitive financial world.
In-State Tuition and Fees:
$7,218
Ranking:
27th
5. North Carolina State University
Raleigh, North Carolina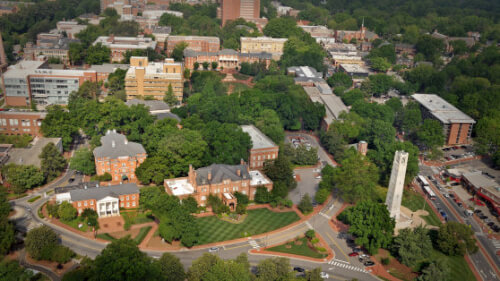 Image Source
NCSU's business school offers a full-time MBA with a concentration in Financial Management, whose curriculum emphasizes the real-world applications of technical know-how. The school intentionally limits class sizes and maintains a high degree of selectivity in order to encourage a great deal of interaction between students and faculty – a goal helped by the student-to-faculty ratio of just 10:1. A unique stock market class allows students to manage a $100,000 investment portfolio on behalf of the college. Career services provide individualized career management plans to suit each student's specific needs, an investment that is reflected in NCSU alumna's impressive placements at Chevron, Lenovo, and more. Beyond the books lie NCSU's dynamic student organizations and recreational facilities open to all graduate students.
In-State Tuition and Fees:
$7,173
Ranking:
30th
4. Louisiana State University – Baton Rouge
Baton Rouge, Louisiana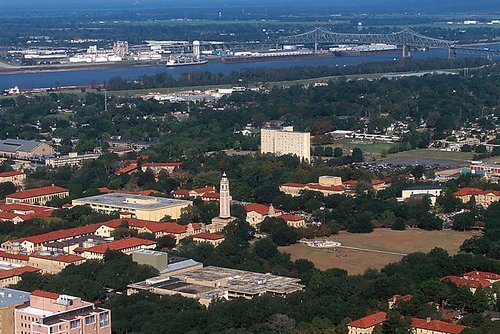 Image Source
Located on a sprawling, leafy campus, LSU offers an MS-Finance program for finance/business undergrads keen to embark on a specialized finance career. Narrower and more focused in scope than an MBA, the MSF course plan can be adapted to reflect a student's unique professional goals. An alternative JD/MS dual degree is also available for those wishing to pursue a finance career in the legal arena. If you're concerned about your budget, financial assistance is available in the form of awards and assistantships to meritorious students. LSU's academic experience is highly rated and an impressive 70% of students are employed at graduation.
Tuition and Fees:
$6,937
Ranking:
26th
3. Mississippi State University
Mississippi State, Mississippi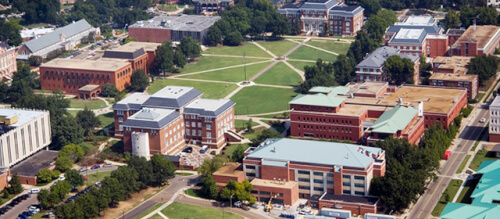 Image Source
MSU offers an accelerated 1-year MBA program for business professionals keen on choosing an affordable program that provides avenues for experiential learning by internationally acclaimed faculty in notoriously small classes. The College of Business also participates in the Academic Partnership Program with the Wall Street Journal, an opportunity sure to excite finance students. Graduate students have the opportunity to choose from hundreds of student organizations and special interest groups to suit their needs. The career center offers individual appointments and on-campus interviews, contributing to a stellar 85% employment rate at graduation.
In-State Tuition and Fees:
$6,772
Ranking:
28th
2. Texas A&M University
College Station, Texas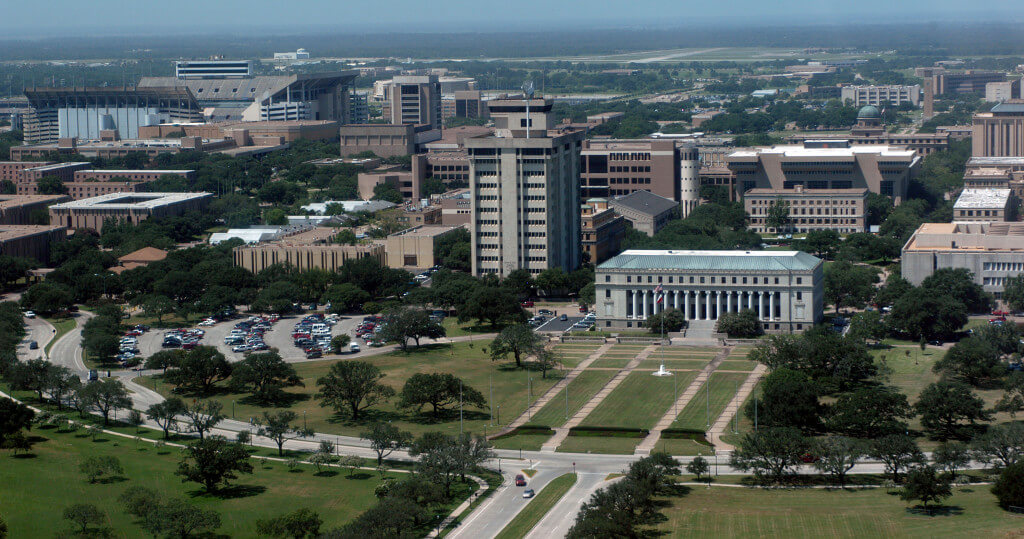 Image Source
Mays Business School at Texas A&M offers a 10-month MS-Finance professional degree with an emphasis on practical financial skills and career preparation. Applied learning and networking play an important role in the non-thesis MSF curriculum with exposure to a lecture series, social interaction opportunities with industry leaders, and a high-profile Investment Banking program on Wall Street called iBank. The school provides financial aid in the form of graduate assistantships as well as merit scholarships awarded for CFA and CMT exams. As just one piece of proof of its quality, the Financial Times rated education at Mays #1 US Best Value for Money in 2014.
Tuition and Fees:
$5,437
Ranking:
17th
1. Texas Tech University
Lubbock, Texas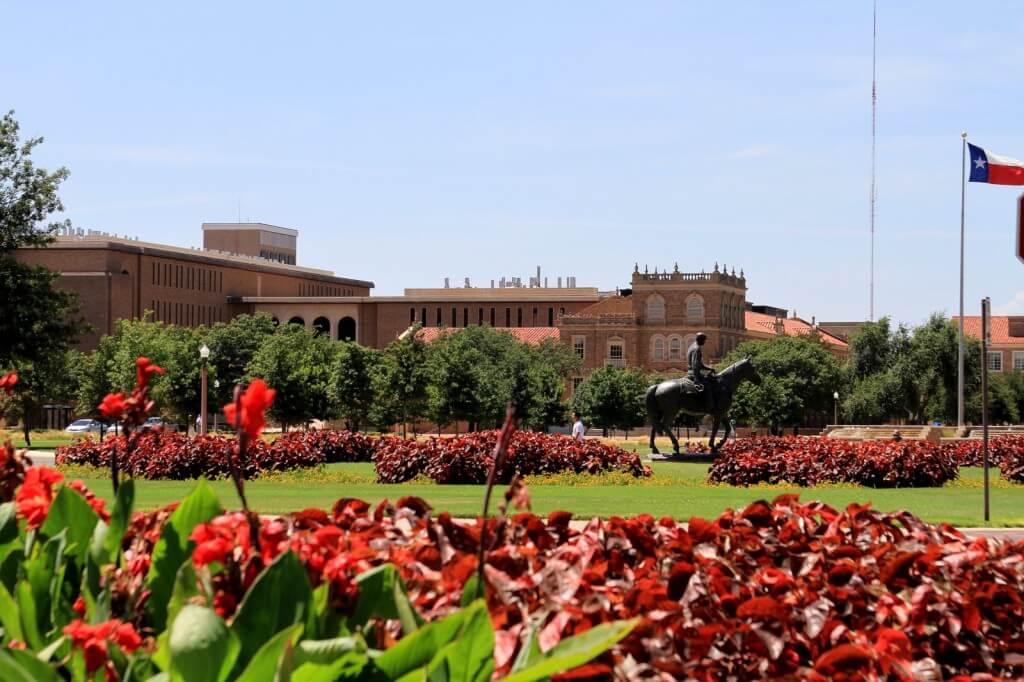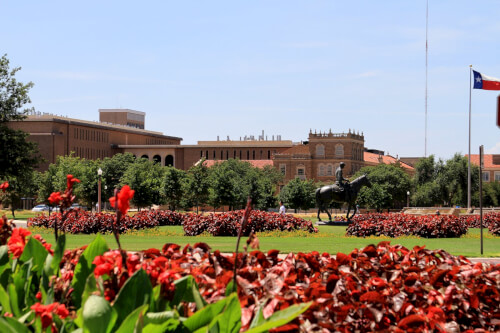 Image Source
Located on a sprawling campus in west Texas, housed in a Spanish Renaissance-inspired historic building, TTU's Rawls School of Business offers both a Graduate Certificate in Finance and an MBA with a Finance emphasis. Curriculum includes courses in finance management, capital markets, options and futures, and more, and the certificate can be pursued on its own or as electives for other degree programs. Also, if you're a working professional, you'll be relieved to hear that the programs offer evening and weekend classes as well. A newly opened Graduate Center provides networking and recreational facilities solely for use by graduates and doctoral fellows, while small classes guarantee students lots of time with faculty, which is critical to those pursing an affordable master of finance degree.
In-State Tuition and Fees:
$4,546
Ranking:
25th
Sources:
College Navigator
Grad Schools – Master of Finance
Princeton Review
U.S. News and World Report